38 Various Job Vacancies at TANROADS Mara (Mkoa wa Mara in Swahili) is one of Tanzania's 31 administrative regions. The region covers an area of 21,760 km2 (8,400 sq mi). The region is comparable in size to the combined land area of the nation state of El Salvador. The neighboring regions are Mwanza Region and Simiyu Region (to the south), Arusha Region (to the southeast), and Kagera Region (across Lake Victoria). The Mara Region borders Kenya (to the northeast).The regional capital is the municipality of Musoma. Mara Region is known for being the home of Serengeti National Park, a UNESCOWorld Heritage site and also the birth place of Tanzania's founding father Julius Nyerere. Under British colonial occupation, the Mara Region was a district called the Lake Province, which became the Lake Region after independence in 1961.
38 Various Job Vacancies at TANROADS Mara
Tanzania National Roads Agency (TANROADS) is vested with the responsibility of Maintenance and Development of Trunk and Regional Roads Networks in Tanzania Mainland. It is also responsible in conducting Axle Load Control Operations using weighbridges scales.
The Regional Manager TANROADS Mara on behalf of the Chief Executive TANROADS is looking for suitably qualified and competent Tanzanians to fill vacant positions available for Accounts Assistants, Weighbridge Operators, Weighbridge Officers, Office Assistants and Drivers as follows;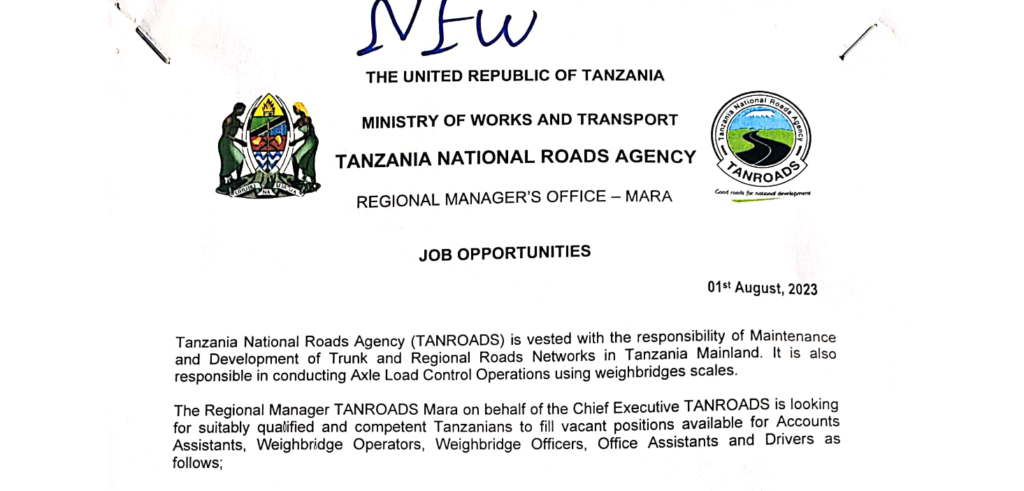 General Conditions
All applicants must be a Tanzania Citizens.
Applicants must attach an up-to-date Curriculum Vitae (CV) having reliable contacts, i.e. postal address, e-mails and telephone numbers.
Age: Not above 45
Apart from professional qualifications requirements outlined in the position, candidates to assume the positions must be trustworthy, responsible, reliable, accountable and with high degree of integrity.
Applicants should apply on the strength of the information given in this advertisement. 6. Applicants must attach their detailed relevant certified copies of academic certificates.
Testimonials, Partial transcripts and result slips will not be accepted.
Applicants should indicate three referees with their reliable contacts.
Certificates from foreign examination bodies should be certified by TCU, NACTE, or NECTA
Only short-listed candidates will be contacted for interview.
Deadline for submission of application is 14th August, 2023.
Application letters should be written in English Language.
Terms and Conditions of Service
Appointment will be on Contract Terms; renewable subject to satisfactory performance;
The salaries for the post will be according to TANROADS Scales.
Means of Applications
Please send your handwritten application letter, academic and birth certificates as well as comprehensive Curriculum Vitae (C.V) to the address shown below. Your application must be submitted not later than 14th August, 2023. Only successful candidates will be notified and invited for Interview.
THE REGIONAL MANAGER,
TANZANIA NATIONAL ROADS AGENCY (TANROADS),
P. O. BOX 81,
MUSOMA.