Assistant Tax Manager Jobs at Mehta Associates Latest Mehta & Associates was established in 2013 and is a member of the Tanzania National Board of Accountants and Auditors. The firm is registered in Tanzania under the Auditors and Accountant (Registration) Act, 1972 (as amended in 1995) with registration number PF 271.
Led by, founding partner Kalpesh Mehta (CPA-PP), his wealth of experience, knowledge and pioneering spirit has been the corner stone of the firm's success.
Assistant Tax Manager Jobs at Mehta Associates
Also Mehta & Associates is also a proud member of Integra International – an international network of independent Accounting and Consulting firms dedicated to exchanging information and advising growing businesses and professionals.
Our hiring process is simple enough to allow an applicant to go through the process with excitement and enthusiasm towards the journey to pursue their dreams.

There are four stages that an applicant needs to go through before being presented with an offer.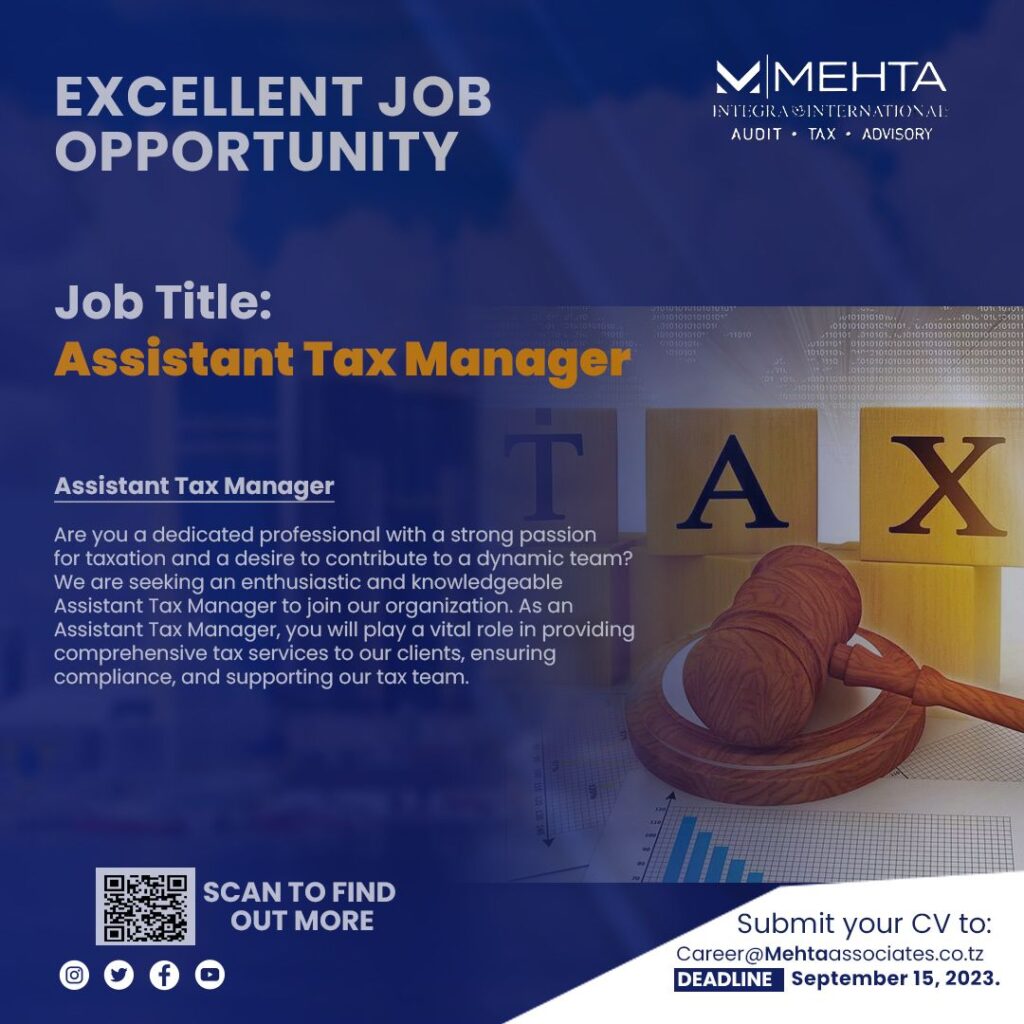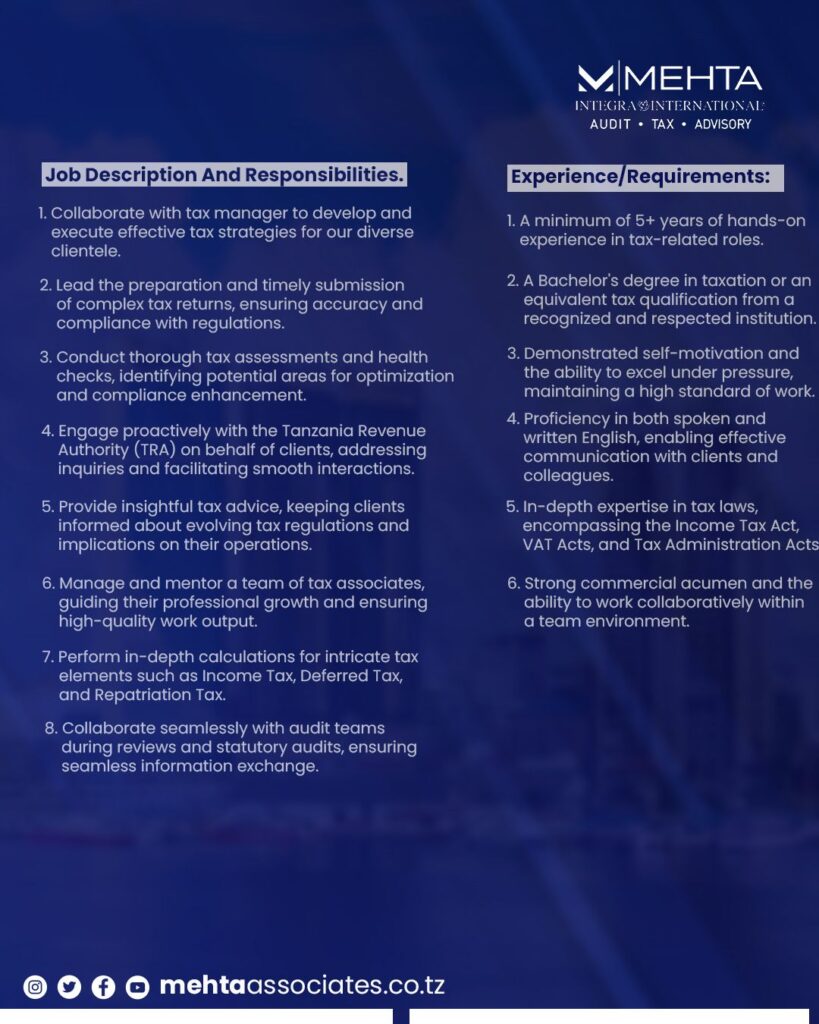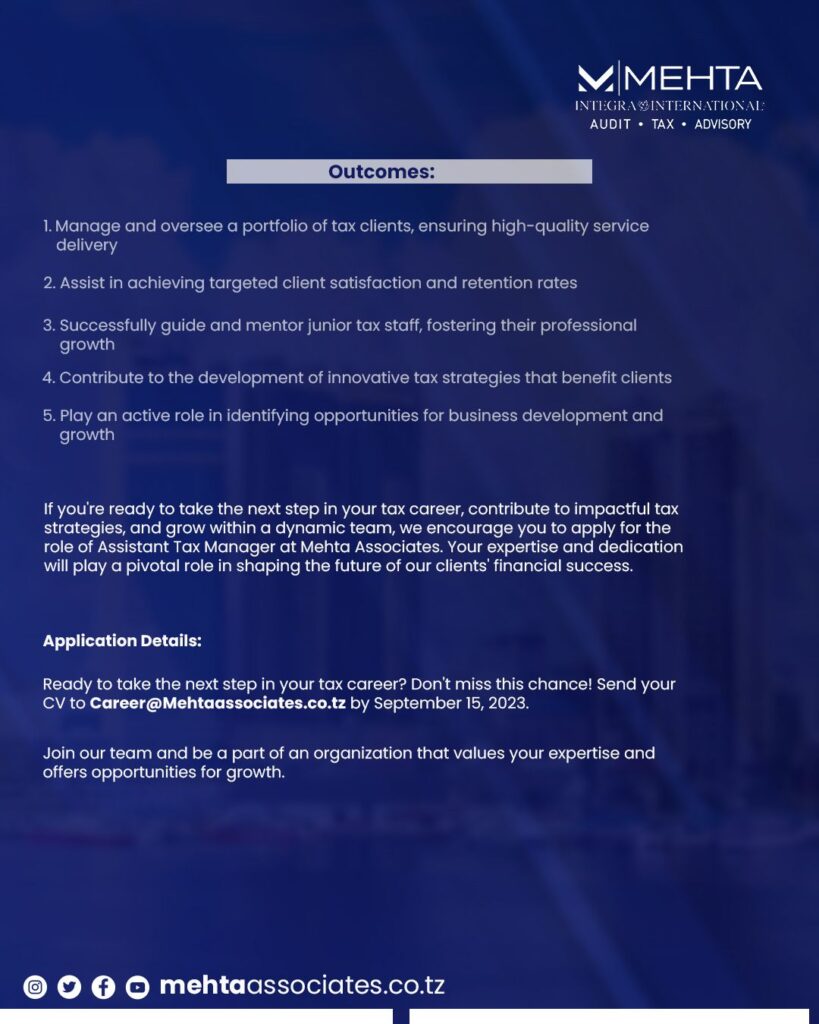 Online Application
The application shall be done on our website which is easy to understand and enables an applicant to fill in their particulars and brief description about their background.
Aptitude Test
The test shall allow an applicant to portray ability on technical aspects regarding the position that has been applied for. It requires an individual to be fast in thinking and accurate to produce precise answers. Individuals will be required to bring along their certificates and identity card.
Manager's Interview
For those successful applicants will have to proceed for a manager's interview where it will be an opportunity to show your capability in expressing your experience and skills and a chance to convince our manager why the firm should consider you for a position.
Partner's Interview
This is the last stage in our application process, where selected applicants will meet our Partner (one to one) to discuss the chance to work with Mehta & Associates and how competent they think they would tackle a lifetime opportunity to achieve their dreams while realizing firm's vision.
Finally, an offer shall be presented to those successful candidates and have a great time opportunity career in Mehta & Associates. Welcome to the family to make an impact in society.
Application Details:
Ready to take next in your career? don't miss this chance! send your CV to [email protected] by september 15, 2023